Simon Says DieCember with Deb Valder
Hidy Ho Ho Ho Stampers!
Today I used my GoPress and Foil Machine with my NEW Simon Says Die. The die is called Decorative Hamsa. It's "DieCember" over at Simon Says this month. CLICK HERE to take a look at their NEW dies.
Dang, I was really trying to capture the BEAUTY of the Foiling on this card
but it's next to impossible. You have to trust me that it is gorgeous!
I used the Couture Creations Go Press and Foil Machine along with the NEW Simon Says Decorative Hamsa Die to create this gorgeous look. Here's a close up:
It's a thin metal die but I used it with my foil machine instead of using it as a cutout!
Oh the beauty of it.
For those of you that have the foiling machine, have you used any of your regular dies with it. You really need to….and those of you that do not have your Foiling Machine yet, you may want to ask for one for Christmas! :0) Just sayin' !!
Head on over to Simon Says DieCember to see what they have to offer for this month!
Head on over to Simon Says through my affiliatelink and take a look at all they have!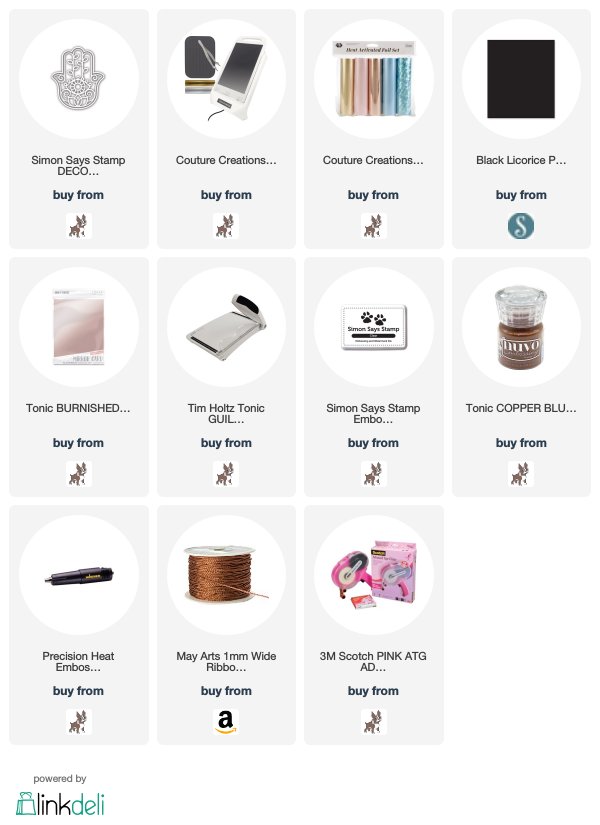 I participate in several affiliate programs. That means that I receive a commission when products are purchased through links here at this blog (at no cost to you).
Please know I will never share or even review product that i would not personally recommend or that I do not personally like.