Christmas Bug with Deb Valder
Hidy ho ho ho Stampers!!!!!
It's beginning to look a lot like Christmas!!! Can you hear me singing??? Well today is the day after Thanksgiving and where I live, there are several Christmas Tree Farms. Just about every other car that is passing the house has a tree strapped to the top. Some of them have more than one tree on top! So today was a fitting day to sit and color this adorable stamp! It's the Christmas Bug! This stamp brings me back to my high school days when my mom owned a Volkswagen Beetle. We used to cram everything in there! Shhhhhhh don't tell her!
How stinken cute is this little cutie?!
Here's a little video to show you many different ways to make snow on your cards. If you are viewing this from your email, click here to see it.
I also used some Fluffy Stuff to make the snow 3D and to give it even more of a cute factor!
The cute little Christmas Bug also used our Crystal Glaze and White Blizzard for added fun to this card:
So have you gotten your tree?! I'm so excited for the holidays and all the trimmings! Getting one of our trees today! Thank you for taking a little time out of your day to spend it with me. I appreciate you so much. (((hugs & happy holiday prep)))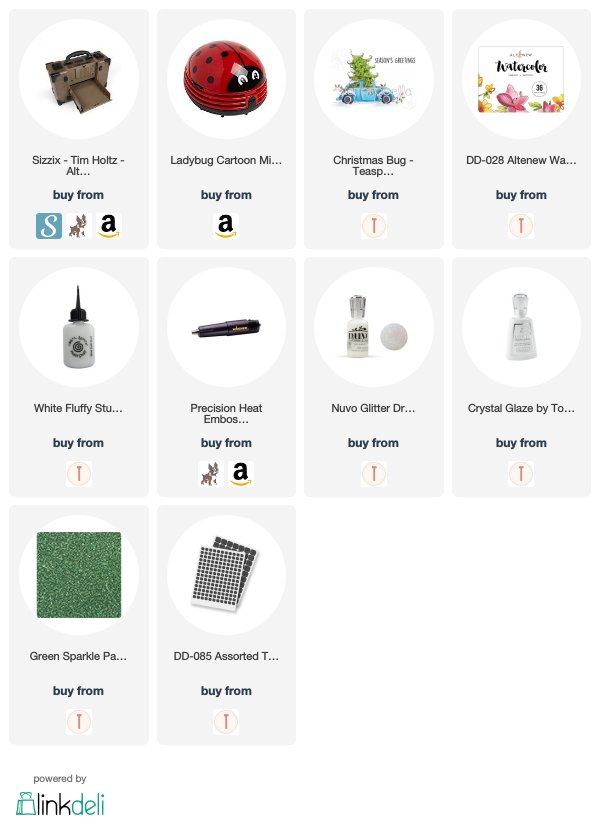 I participate in several affiliate programs. That means that I receive a commission when products are purchased through links here at this blog (at no cost to you).
Please know I will never share or even review product that i would not personally recommend or that I do not personally like.