New Beginnings with Deb Valder
Hidy Ho Stampers,
All supplies are linked in the text below and in the thumbnails at the end of this post.
Compensated affiliate codes used are at no cost to you.
It's a New Day… with New Beginnings. Today is the first day of a new beginning for my stamping adventure. After 19+ years, two direct sales companies, becoming the 10th Million Dollar seller and achieving the highest rank in the company, I've decided to venture off into the affiliate world. This is so exciting and so scary at the same time – have you ever been there?!!!!
Credit for this work of art goes to two very dear friends – Audra Schoch and Maureen Scripa!
I love you both so much!
What does this mean for you? I will still be blogging like usual, I will be doing my videos like usual, I will still be on FaceBook, Instagram, Pinterest, and SplitCoastStampers so no change there. BUT….when you see something you like on my blog/youtube videos etc., you will click on the products used instead of going to my old FSJ website. The new links will bring you directly to the product that I'm featuring. How easy is that? While you are in that link, you are free to order other products at the same time with one easy checkout. That's it. Super simple. BUT…one difference is that I won't be able to see who ordered. That part I'm so sad about. It takes the personalization out of it. Please shoot me an email when you order. And definitely let me know if you have any questions. I'm still always here to help.
FSJ/SPELLBINDERS MERGE!!!!
Now you need to know that FSJ did not shut down – lots of rumors out there that are just not true. No, as a matter of fact Fun Stampers Journey and Spellbinders Paper Arts came together for one HUGE storefront! That is very good for me as you will see in this post. The two of them combined offer more than 2,500 products now.
FSJ/SB has one easy check-out and SHIPPING…ooooolahlah….shipping is a $5 flat rate shipping up to $74.99 annnnnnd FREE shipping on orders that are over $75. That's right! I did just say FREEE SHIPPING on qualifying orders! WOOOT WOOT!!!!!!
There are Creative Rewards for you also! YES…make sure you sign up for their creative rewards!
For all my peeps that are not located in the US….FSJ/SB SHIP INTERNATIONALLY now! You can click on my links and they will ship to you! YEAHHHHH
Other Companies!!!
I will also have affiliate codes for other companies. As part of this new Co-op model, we are now able to go out and use other brands. So come and join the fun! I have a lot to show you! Remember to use the affiliate codes -these sales help me to replenish my stamping supplies so I can continue to bring you the latest and greatest products and ideas. DO NOT use my old website – PLEASE DO NOT USE www.funstampersjourney.com/debvalder – this site goes directly to the company now and I will not receive any compensation for it. Use the affiliate codes below – you can add to your cart while you are in there but start with one of the affiliate codes 0r go to the SHOP WITH ME BUTTON ABOVE! It's so much easier now! Ready…..set……LET'S GET THIS PARTY STARTED!!!!!
Check out my NEW BEGINNINGS VIDEO!!! Lots of information in there!!!
Isn't this new collection FABTABULOUS!!!!
Right?! Didn't I tell you it was going to be all good?!
This set is from Spellbinders and it's called Dangling Ornaments
The sentiment is also from Spellbinders, it's called Giving Occasions
Thank you so much for taking time out of your busy day to spend a little of it with me. This is my "New Beginnings", thank you for continue to be a part of it! (((hugs))) I can't tell you how much this means to me!!! Please leave me a comment to let me know what you think and make sure you scroll to the end of this post – it's SO ME!!!
I participate in several affiliate programs. That means that I receive a commission when products are purchased through links here at this blog (at no cost to you).
Please know I will never share or even review product that i would not personally recommend or that I do not personally like.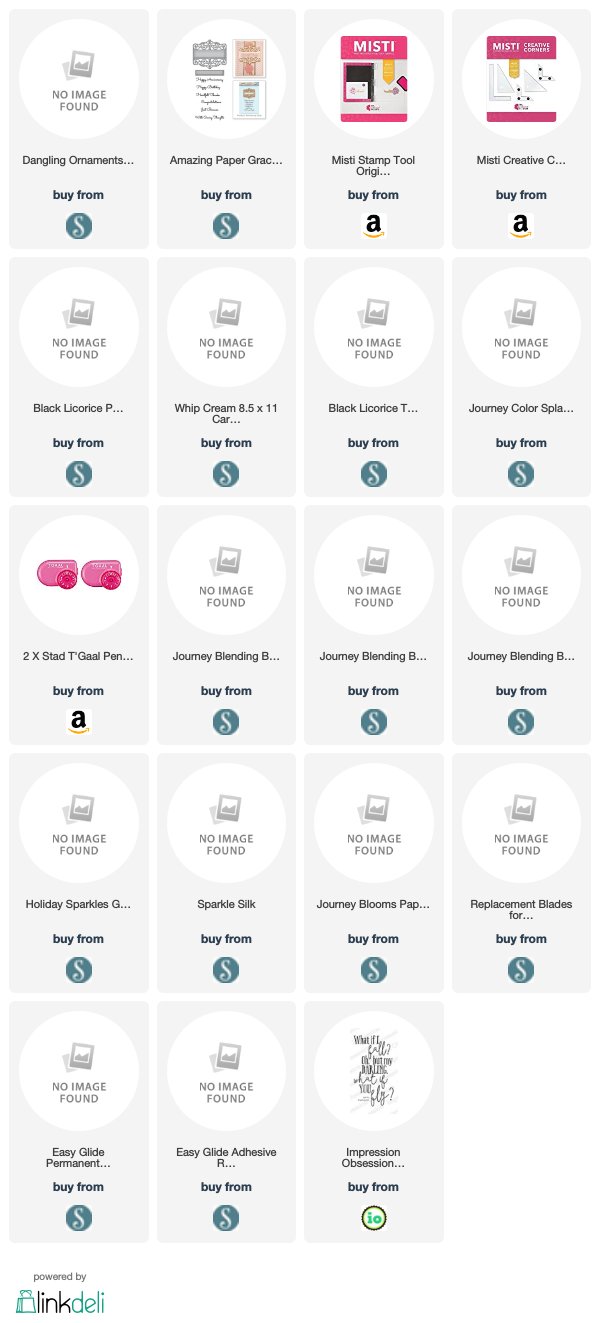 #ivegotthis